Interactive Storybook Apps
Fun-packed educational apps that come to life with stories, music and games to engage young minds.
When an owl disturbs Stella's home, this love able baby bat is saved by and raised by birds. She learns the ways of birds, but eventually, Stella grows to discover her true identity and the readers see how differences can be virtues, even in the same family.
by Janell Cannon NOW AVAILABLE
A day trip to the beach with fun-loving Little Critter. Everything comes to life in this storybook app. The love between a grandparent and a child reminds us all how lucky we are to have generations of loving, caring parents around us.
by Mercer Meyer NEW RELEASE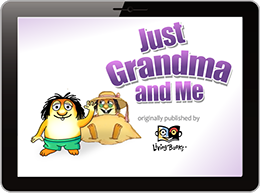 Ruff's Bone is an offbeat adventure of Ruff's far-ranging hunt to find his bone. His determined search leads into a cave, high up in the clouds, back to the bottom of the ocean and even up a ladder to another planet. Will he find his bone?
by Eli Noyes
Berenstain Bears In The Dark
A spooky story Brother Bear reads to Sister Bear keeps her, and eventually the entire family up all night long. The next day, Papa shows Sister how to take charge of her imagination and in the end it's Brother who is a little afraid in the dark.
by Stan and Jan Berenstain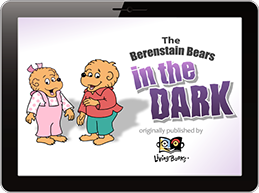 A story of how children sometimes feel they must choose between friends. Arthur and Muffy are each planning their birthday parties for next Saturday afternoon. How will their friends decide which to attend?
by Mark Brown


The Tortoise and The Hare
In this classic Aesop's fable, the Tortoise proves that being slow and steady wins the race. Join him as he accepts the much faster Hare's challenge to a race, one that doesn't turn out as the Hare had planned.
Aesop's Fable


2012 "A Matter of App" AWARD WINNER. A story about making a new friend. Join Little Monster on a fun-filled day at school as he explores different subjects with his classmates and makes friends with Yally, an often difficult fellow student.
by Mercer Meyer


Children's Technology Review EDITOR'S CHOICE AWARD winner. A story about studying hard and working towards your goals. Arthur learns to cope with his strict new teacher, Mr. Ratburn and compete in a school-wide Spelling Bee. Will he study hard for the competition?
by Marc Brown

Harry and the Haunted House
Children's Technology Review EDITOR'S CHOICE AWARD winner. A slightly "spooky" tale of how sometimes the scariest thing in the house is our own imagination. Join Harry and his friends as they retrieve their baseball lost in the "haunted" house across the field.
by Mark Schlichting

Berenstain Bears Get in a Fight
A small argument escalates to the point where neither Brother nor Sister Bear can remember what they were fighting about in the first place. Will Mama Bear's calm logic help them get along again?
by Stan and Jan Berenstain
Children learn the meaning of words by exploring poems. They'll meet an ugly dog, a leaking baby and the exploding "Bloders". They giggle at the antics of a chorus line of 40 dancing bananas and laugh as fearless Tillie eats her fiery chili. Packed with songs and much more!
by Jack Prelutsky, the first ever U.S.
Children's Poet Laureate".
Get the Collection for a Special Price